Disclosure: Compensation was provided by Target via Mode Media
Last week I raved about Target's New Beauty Box, and especially loved that for only $5, the Spring Box was filled with five fabulous beauty products for me to try at an affordable price. Here's another peek of what was in that box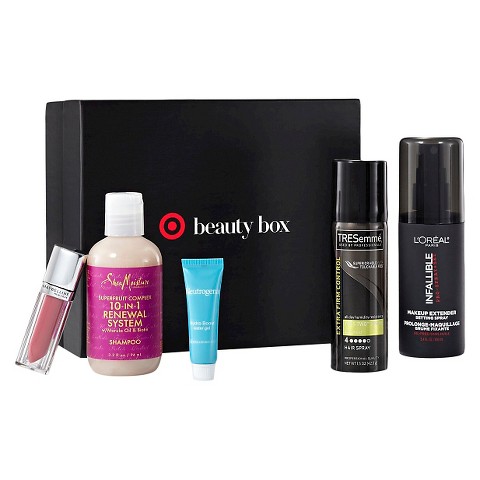 In this follow-up Target Style post, I wanted to expand on how the Target Spring Beauty Box allowed me to discover two fabulous new beauty products and show you how easily I incorporated these products into my current beauty routine.
Even though I typically don't use makeup setting spray because I perceive them to be heavy and sticky, the beauty box allowed me to test out L'Oreal's Infallible Pro-Spray & Set and showed me that it actually feels super lightweight on your skin and it really keeps your makeup looking fresh all day long! Since sampling this spray in the beauty box, I can't seem to get enough of it, LOVE! And I know it will come in very handy during the hot, sweaty summer months too.
The other treasure that I discovered in Target's Spring Beauty Box was Maybelline's Color Elixir Lip Color in Rose Redefined, a swoon-worthy hybrid of a balm, a lipstick and a gloss applied with an innovative angora brush that makes your lips feel smooth, soft, silky and sexy. Honestly, I would have 'glossed over' (no pun intended) this lippie in the mass beauty aisle, however after trying it on and seeing how amazing it looks and feels on my lips, I'm hooked!
This is what I love about shopping at Target, they curate such an amazing assortment of beauty, fashion and lifestyle products in one place, that it is like a treasure hunt every time I shop there. What goodies have you recently discovered at Target? Please share your fabulous finds in the comment section below.
Find your style @targetstyle
STAY CONNECTED!
Subscribe to Romy Raves
Click the link below to subscribe and be in the know for every Rave-Worthy find!
BY SUBMITTING YOUR INFORMATION, YOU'RE GIVING US PERMISSION TO EMAIL YOU. YOU MAY UNSUBSCRIBE AT ANY TIME.