Happy Mother's Day! One of the most classic and special gifts that you can buy for a mother on Mother's Day is a gorgeous fragrance that anchors a time, place, memory or mood and what makes this gift so special is that a sensory experience can last a lifetime. For the last few weeks, I have been joyfully sniffing away at numerous fragrances and I have curated a selection my favs which I think will make a fabulous gift for your mom or that special woman in your life. Enjoy!
1)  La Prairie Silver Rain Eau de Parfum ($135) How can you resist this sleek, stunning, silver rain drop shaped bottle that contains the most gorgeous sophisticated, sensual fragrance?! Silver Rain has refreshing top notes of crisp green apple, verbena flower, bergamot, anise, and crushed coriander; Fruity and floral heart notes of dewfruit berry, plum, crystalized sugar accord, gardenia, and tuberose blossom; and sensual woody base notes of red sandalwood, rare agarwood, tonka bean, vanilla, patchouli, musk, and heliotrope flower. This is a sexy night-on-the-town fragrance and my man can't resist it 🙂
2)  Kat Burki Tubéreuse Eau de Parfum ($95) Kat Burki is a swoon-worthy line of artisanal ambiance and fragrance products with meticulous attention paid to selecting natural ingredients and creating eye catching packaging. The new Turbereuse fragrance is feminine and complex with fresh and fruity top notes of peach nectar, orange and green leaves; floral middle notes of tuberose, gardenia, and jasmine and bottom notes of amber, rosewood and musk. This parfum is an intoxicating floral with hint of sensuality.

3)  mark Marrakesh Instant Vacation Eau De Toilette ($24) I am obsessed with the fabulous new transports-me-to-a-tropical-vacay fragrance from mark. Marrakesh is an exotic blend of lavish Moroccan jasmine, neroli blossoms, spicy cardamom, wild fig and crushed mint. I love summery, fresh coconuty smell and the sexy artistic bottle.
4)  L'Occitane La Collection de Grasse Thé Vert & Bigarade Eau de Toilette ($75) I am loving L'Occitane's fabulous new fragrance Collection de Grasse which includes four refreshing flower inspired fragrances. I was instantly smitten with the fresh, green crisp and vibrant Thé Vert & Bigarade that totally wakes up the senses with sparkling citrus top notes, sweet and bitter orange middle notes and green tea and yerba maté base notes.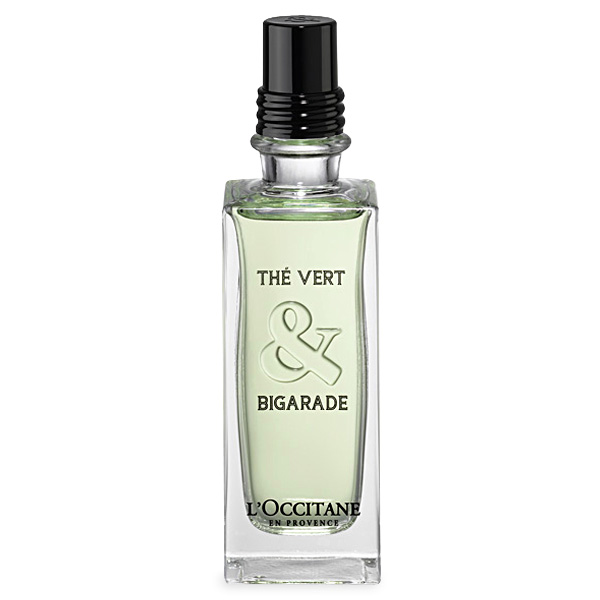 5)  LAVANILA Fresh Vanilla Lemon Eau de Parfum ($58) Fresh Vanilla Lemon is a bright, juicy lemon scent blended with lush watery fruits, fresh bamboo, and pure Madagascar vanilla for a clean and sexy softness. This totally smells like a fresh sweet bright spring scent to me. It's sugary, crisp and sensual all at the same time = LOVE!
6)  By Rosie Jane Leila Lou Roll-On Perfume ($39) Beauty insider's have been raving about this cult fav fragrance for a long time and I am excited that I finally had the chance to try it and it totally lives up to the hype! This complex inspired roll-on fragrance is made with a wonderful combination of unexpected notes that totally work together in beautiful harmony. It's made with notes of pear, jasmine and fresh cut grass making it fresh, floral, clean and totally unique.

7)  Royal Apothic Plains of Thistle Eau de Parfum ($55) If the stunning must-display-on-your-vanity ceramic floral cap, ombre glass bottle and collectible wooden box aren't enough to get your attention, then the refreshing crisp floral parfum inside will totally win you over. Plains of Thistle has a refreshing top note of crisp lemon and mint julep, spicy floral middle notes of white pepper, peony, and hyacinth blossom and bottom notes of cedarwood and labdamun. It's fresh, sweet and spicy and feminine.
Disclosure: I was sent samples of the fragrances mentioned above for editorial consideration, but all sensory opinions are my own.
STAY CONNECTED!
Subscribe to Romy Raves
Click the link below to subscribe and be in the know for every Rave-Worthy find!
BY SUBMITTING YOUR INFORMATION, YOU'RE GIVING US PERMISSION TO EMAIL YOU. YOU MAY UNSUBSCRIBE AT ANY TIME.