I ADORE all things PUMPKIN and I get rather giddy about scouting the latest pumpkin fabulousness for my annual roundup. How can you resist the gorgeous warm orange hue, the yummy smell of cinnamon, vanilla and pumpkin pie. It speaks to me on a very deep level and I mean that sincerely! Following are seven pumpkin inspired products that have stolen my heart (and nose) this season, I hope you enjoy them as much as I do.
GlaMER Lips Pumpkin Spice Natural Lip Scrub ($11) is handmade, yummy Limited Edition lip scrub made with all natural and organic ingredients. It smells and tastes like a heavenly slice of pumpkin pie and you can even lick it off! Take a gander at the fabulously clean ingredients used to make this divine scrub: Castor Sugar, Organic Jojoba Oil, Organic Coconut Oil, Pure Vitamin E, Natural Pumpkin Spice Flavors, Ground Cinnamon. What's not to love about a lip scrub that tastes like pumpkin pie and also gets rid of the dry flaky skin on your lips? LOVE!
Burts Bee's Pumpkin Spice Lip Balm ($2.99) Now that your lips are tasty and smooth from the lip scrub, why not moisturize & sooth them with Burt's equally yummy Pumpkin Spice Lip Balm?! This seasonal lip balm from this cult fav brand is infused with creamy pumpkin and a touch of spice, plus naturally conditioning beeswax. It's the perfect balm to keep in your purse this holiday season.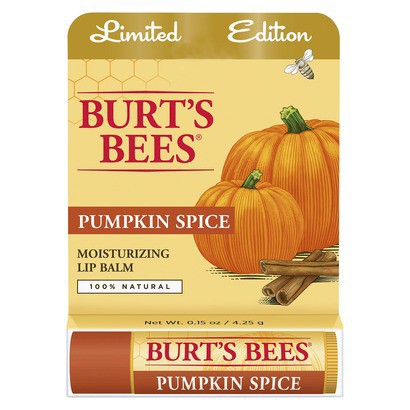 Emerald & Ash Pumpkin Apple Butter Cuticle Oil ($4.25) I am smitten with the plethora of fabulous custom blended nourishing cuticle oils from Emerald & Ash. Don't get me started on the Pumpkin Apple Butter Scent, OMG = Heavenly! It's like the perfect mash up of an apple and pumpkin pie! I love the petite bottle & roller ball application of these oils – so yummy, so inspired and addictive! With their other scents like Monkey Farts, Cucumber Wasabi Cilantro, Sweet Potato & Brown Sugar and Tomato Leaf Coriander, your senses and cuticles are in for an indulgent aromatic treat. OBSESSED!
The Gnarly Whale Pumpkin Beach Waves ($12) is a handmade, vegan wave-encouraging hair product made with water, Mediterranean sea salt, aloe vera gel, coconut oil, grapefruit seed extract, and essential oils and/or fragrance. I found the idea of a pumpkin scented Beach Wave Spray in the Fall unexpected and intriguing. This spray has yummy cinnamon notes and it gives your hair volume and gorgeous waves even in the thick of Fall/Winter, and they also have an equally yummy Pumpkin Detangler ($11) too.
KleanSpa's Smooth-EZ Body Polish in Perfect Pumpkin
($14-42) is a fluffy sugar body scrub made with ultra-moisturizing shea butter that is blended and whipped with coconut oil and cane sugar. This hydrating body exfoliator is delightfully gentle yet effective and it's ideal for people with sensitive skin. I love the combo of this frothy scrub infused with KleanSpa's warm spicy and almost nutty Perfect Pumpkin scent, it smells so good you are tempted to take a bite, but don't!
Trader Joe's Pumpkin Body Butter ($4.99) is a thick, rich, moisturizing cream made exclusively for Trader Joe's with coconut oil, shea butter, and pumpkin seed oil. I LOVE the fluffy whipped marshmallow texture, the slightly fruity pumpkin pie scent and the amazing price of $4.99! Run to your nearest TJ's and pick up a tub or two before they sell out cause they will only be in store as long as Pumpkin Season lasts.
Sircuit Youth Accelerator+ Pumpkin Enzyme Peel
($75) is a yummy anti-aging face peel packed with powerful antioxidants and natural pumpkin enzymes that exfoliate away impurities and delivers vitamins and nutrients to the skin. This potent peel helps stimulate collagen and elastin, decreases fine lines and improves skin texture. What a yummy way to look younger, sign me up!
Disclosure: I was sent an assortment of some of the pumpkin products mentioned above for editorial consideration, however all opinions and affinity for all things pumpkin are my own.
STAY CONNECTED!
Subscribe to Romy Raves
Click the link below to subscribe and be in the know for every Rave-Worthy find!
BY SUBMITTING YOUR INFORMATION, YOU'RE GIVING US PERMISSION TO EMAIL YOU. YOU MAY UNSUBSCRIBE AT ANY TIME.