Calling all Beauty Luvahs: This gift guide is totally up you alley! I've searched high and low and curated my favorite RAVE WORTHY beauty product and make-up holiday gift sets of the season. I'm excited that many of my adored beauty brands came out with fabulous gift sets this season and I am excited to share these exciting treasures below. Enjoy and happy gifting 🙂
1) AVON Be Jeweled Mini Lip Gloss Set ($5.99)
I am totally swooning over this adorbs mini bejeweled lip gloss set! It includes five mini crystal adorned versions of AVON's best selling Glazewear Dazzle Lip Gloss in Plum Dazzle, Gleaming Ruby, Fuchsia Fantasy, Sparkling Crystal and Shimmered. These are gorgeous glosses and perfect for throwing in your evening bag during the holiday party season. I love these blingy glosses so much, I will def be gifting them this holiday season. If you love this super cute and affordable gift set, definitely check out the Merry Mini GLIMMERSTICKS Eye Liner Set ($7.99) and Party Polish Mini Set ($8.99)
2) Votre Vu Winter WonderHands Bébé Duette Gift Set ($79)
Ever since I got my hands on Votre Vu's super cute bebe Duette Luxe Hand Creme and Lip Balm combo, I have been obsessed! It's a brilliant duo of of a travel sized beautifully moisturizing warm almond and coconut hand creme paired with an emollient vitamin E lip balm in the cap! Brilliant! The lip balm comes in the original clear and a new rose-hue framboise infused sheer balm. And Winter WonderHands comes with three sets of these cult fav duos, each wrapped in their own bag so that you can keep one set and give the others away. I love traveling with a duette because it's a 2 in 1 product and it smells divine. If you love this brand, here's another great gift set Little Miss Hard to Buy For Holiday Gift Set ($45)
3) Seeing Stars Smudge Stick Waterproof Eye Liner Set ($32)
Stila does it again with this holiday inspired set of their best-selling smudge stick waterproof eye liners. These easy to use versatile eye liners are waterproof, long-wearing, won't budge and come in five gorgeous shimmery metallic shades: Stargazer a black with gold and silver pearl, Angelfish a metallic pewter, Tetra a deep shimmery purple, Moray a golden olive shimmer and Oscar fish a warm brown with gold pearl. And they are a steal at $32 (a $100 value)! Another swoon worthy set from Stila this season is their All Is Bright Holiday Lip Glaze Set ($25), its a fab collection of sparkly holiday lip shimmers.
4) Lather Nutcracker Sweet Buff & Butter Duo ($35)
Lather always has such fabulous and well-priced holiday gift sets. The Nutcracker Sweet is a yummy and totally addictive duo of an almond-infused body buff and body butter. The buff is a creamy, moisturizing body scrub that gently exfoliates and smooths your skin and the butter is an ultra-rich, soothing body creme that deeply moisturizes your winter parched dry skin. Another fabulous gift idea from Lather is their Survive & Thrive ($28) gift set. It's an aromatherapy calming gift set that is designed to alleviate holiday stress.
5) Clarins 7 Wonders Gift Set Limited Edition ($48)
The Clarins 7 Wonders Gift Set contains seven must have deluxe travel-sizes of Clarins most iconic products: One-Step Gentle Exfoliating Cleanser, Moisture-Rich Body Lotion, Toning Lotion with Chamomile, Beauty Flash Balm, Hand and Nail Treatment Cream, Instant Light Natural Lip Perfector, and Instant Smooth Perfecting Touch. This well thought out set contains everything you need to keep you clean, refreshed and hydrated while you travel. Another thoughtful holiday gift from Clarins is their Limited Edition FEED 10 Set ($40), a gift of Clarins cults favs and 10 meals for unprivileged school children.
6) L'Occitane Limited Edition Marvellous Flowers Star Gift Set ($68)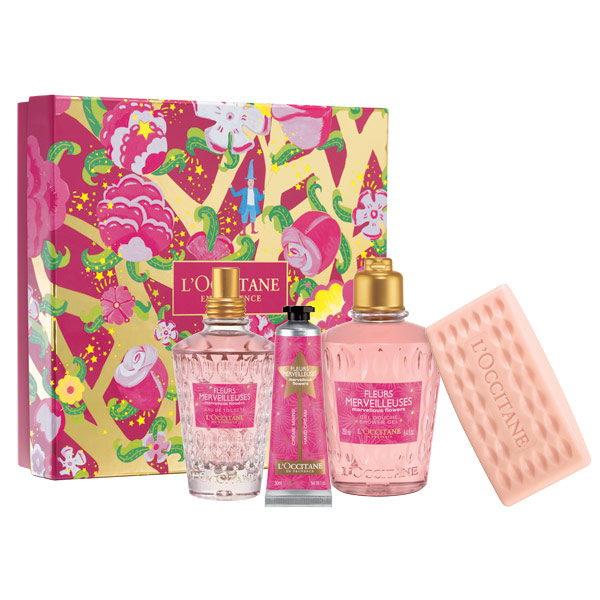 I recently visited the newly opened Hollywood & Highland L'Occitane store and had the privilege of going on a fabulous shopping spree! I totally fell in love with the Limited Edition Marvellous Flowers Eau de Toilette, a gorgeous intoxicating fragrance of sparkling red fruit notes followed by a soft trail of peony and rose. OMG to die for! And this beautifully packaged set includes a wonderful collection of products in this swoon worthy scent: an eau de toilette, shower gel, hand cream and soap, divine! And while I was shopping, I also got introduced to their cult fav Almond products and the Almond Enchantment Gift Set ($68) is definitely another fab gift set to give this season.
7) Senna Haute Nudes Sultry Eye & Face Palette ($48)
Senna holds a special place in my heart since this was THE make-up store of my youth and has continued to wow and inspire into my adulthood. I am totally smitten with the Haute Nudes Sultry warm toned make-up set right now (the Haute Nudes Mystic Cool Rosy Nudes Palette ($48) is also pretty fab!) Each palette contains six shimmer and velvet matte eye colors, one soft sheer matte blush. one luminous highlighter and a Get the Look Booklet that illustrates how to achieve two stunning looks (day and night) with one palette. GORGEOUS!
8 ) Fresh Sugar Soiree Mini Lip Collection ($65)
This adorable Sugar Lip Soiree contains miniature versions of most of the cult fav Sugar Lip Treatments. Whether you're looking to correct, protect, or tint your lips, there's something for everyone. If you have never tried any Sugar Lip Treatments this is your chance, they are amazing, smell like a splash of lemon and sugar and totally transform your lips. Another great gift set from the brand is the Sugar Passion Princess ($28) a trio of Fresh's best selling products.

Disclosure: The brands above sent me samples of their products for editorial consideration for inclusion in my holiday gift guides.

Time for another of my carefully curated holiday gift guides. This guide includes eight of my favorite beauty gift sets of the season