Hello My Beauties! I hope the end of summer has been treating you well. I've been busy, busy attending lots of fun events and even busier testing out a slew of fabulous new products to share with you. There have been so many great ones, but following are the top 10 that have recently stolen my heart, Enjoy!
1) Reisen Home Collection Candles ($39 each) I discovered these beautifully crafted artisanal candles in the VIP gift bag of my fav Secret Rooms Emmy Gifting Suite. These soy/essential oil candles come in a gorgeous package with matches and a wick trimmer (perfect for gift giving!) and each collection is created to reflect the diverse natural beauty of a specific region of our country like the Emerald Coast of Florida and the Blue Ridge Mountains. While all these candles are high quality and amazing, I'm obsessed with refreshing almost edible peach scent of Skyline Drive . If you want to score an Emmy worthy candle for yourself, enter code ROMY20 for 20% off your entire purchase at Reisen Home.

2) L'Occitane Divine Oil ($96) L'Occitane has done it again with their new swoon-worthy Divine Face Oil. This gorgeous oil is made with organic Immortelle essential oil from Corsica (known for its effective anti-aging properties) as well as a proprietary combination of natural actives which target wrinkles, tone and texture of the skin. I love the fresh floral scent, the non-oily lightweight silky texture that instantly melts into your skin and especially how it makes my skin look radiant, plump and velvety. Def a new fav!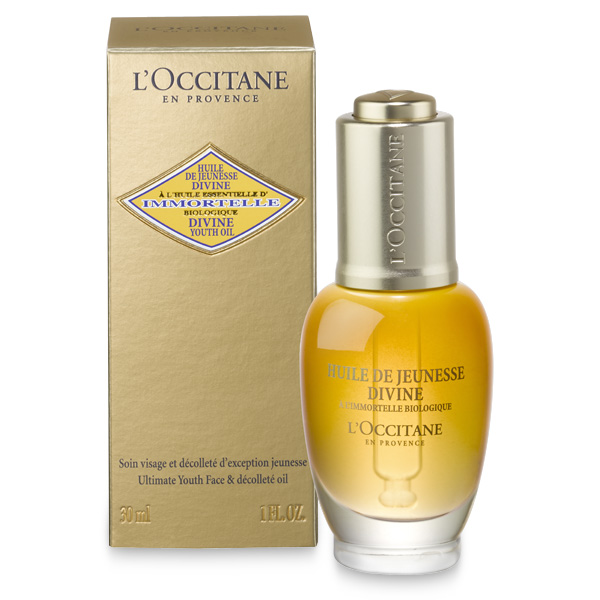 3) Clarisonic Sonic Radiance Brightening Solution Kit ($249) Almost every beauty junkie I know can't live without their Clarisonic brush – it's become the gold standard in facial cleansing. And Clarisonic continues to up their game with their latest innovation, the Sonic Radiance Brush and Kit. This new Clarisonic targets pigmentation and has been clinically proven to significantly reduce dark spots and pigmentation. This pretty in pink kit comes with an Aria-Mia 3 speed facial cleansing device in a gorgeous champagne pearlescent pink, a radiance brush head to remove surface pigmentation and dullness, an AM Skin Illuminating Cleanser to brighten, a PM Skin Renewing Peel Wash to retexturize skin with gentle lactic and glycolic acids, and a Brightening Activator Serum to fade dark spots. Not only is it pretty, but it has noticeably brightened my skin!

4) Glycelene Seatox Mist ($70) I've raved about Glycelene Beauty Ointment before and it has totally become a beauty staple for me. Recently, the brand introduced an Eco-Luxe Collection that I am totally smitten with! One of my fav products from this new collection is the Seatox Mist, a decongesting and detoxing mist with healing ingredients from the sea. This beautiful must-have mist (perfect for jet lag recovery!) is formulated with a patented technology that repels pollution and protects the skin throughout the day. I love the refreshing oceanic scent and how it noticeably perks up my skin.
lycelene Seatox Mist is a revolutionary alcohol free mist with healing ingredients from the sea. This anti-inflammatory spritz awakens the skin while decongesting and detoxing. Formulated with a patented technology that repels pollution and protects the skin throughout the day, this refresher also helps with jet lag recovery.
Formulated with Sea Botanicals
Contains extracts from deep-sea thermal vents
Protects the skin from external daily pollution
– See more at: http://www.glycelene.com/proddetail.php?prod=BB010#sthash.pHhqXp8Z.dpuf
5) Balm Chicky Balm Balm ($12) As if the name and packaging alone weren't enough to grab your attention, this cleverly branded fun, exceptionally hydrating lip balm is totally fab! I adore the cheeky references to the glory days of the 70's, the playful product names and the brilliant Friend End designed to 'keep balm users from sharing more than just lip relief.' The sweet flesh of succulent ripe cantaloupes in Juicy Melons is hard to resist as well as the minty cool Huge Cucumber with a hint of shimmr. So fun and functional, LOVE!
6) Chantecaille Nano Gold Energizing Cream ($420) I am a long time fan of the French luxury skincare brand Chantecaille, best know for their cult fav Bio-Lift Concealer. But the brand's Nano Gold Cream is my new love, made with 24-karat gold particles, silk and nanotechnology, this gorgeous antioxidant cream hydrates, energizes and transforms the texture of your skin at a cellular lever. I adore the beautiful aromatic rose scent and how this cream envelops my skin and makes it radiant and glowing. Spendy but worth it!
7) Laneige BB Cushion Cream ($34) I recently discovered the impressive Laneige skincare line made by the well know luxury skincare brand Amore Pacific. I love when prestige brands utilize their category expertise to create an affordable mass beauty brand with great resources behind it. Laneige's innovative BB cushion cream instantly captivated me! It's made with a proprietary Optimal Mineral Water to instantly cool and hydrate upon application, a patented air cushion technology to distribute just the right amount of cream, skin perfecting ingredients to visibly brighten skin and a broad-spectrum SPF 50. It's a refreshing, all in one NextGen BB cream and I'm loving it!
8) Artis Brushes ($24-$62) are the brainchild of cosmetic industry veteran Matthew Waitesmith, a former senior executive at MAC Cosmetics. Matt created these aesthetically beautiful ergonomically designed brushes to mimic using your own fingers to apply makeup, therefore the brushes are positioned like a finger tip making self application much easier. In addition, these brushes are made out of a proprietary synthetic CosmeFibre that resists moisture, bacteria and keeps it shape better than other fibers. What a chic & brilliant brush innovation!
9) Marco Color Hydrate Conditioner with Collagen Color Guard ($27.25) I'm a longtime fan of local celeb hairstylist and super nice guy Marco Pelusi, and I love the gorgeous rich flattering brunette haircolor he gives me from time to time. I raved about Marco's fab leave-in conditioner last summer and now I'm smitten with his hydrating conditioner. This yummy lavender smelling color preserving conditioner replenishes your hair with vital moisture while increasing volume, manageability and shine. It contains french lavender essential oils to soothe and heal the scalp, apricot essential oils to smooth and add shine, and aloe vera to help repair the hair shaft. I love how it instantly penetrates my hair, softens the texture and results in a killer blowout.
10) Benefit Cosmetics Majorette ($28) Benefit is one on of my all time fav brands because they constantly come out with incredibly clever and useful makeup products. How adorbs is this new drum shaped Majorette Booster Blush? It's an amp up your flush cream-to-powder pink-peach blush. I love warm wash of color you get from this uber cute blush and especially the light peach and pomegranate scent. Girly fab!

Disclosure: An assortment of the products mentioned above were sent to me for editorial consideration, but all opinions and beauty-full insights are my own.
STAY CONNECTED!
Subscribe to Romy Raves
Click the link below to subscribe and be in the know for every Rave-Worthy find!
BY SUBMITTING YOUR INFORMATION, YOU'RE GIVING US PERMISSION TO EMAIL YOU. YOU MAY UNSUBSCRIBE AT ANY TIME.